Michael Drew and Jason Snyder | 12/22/2009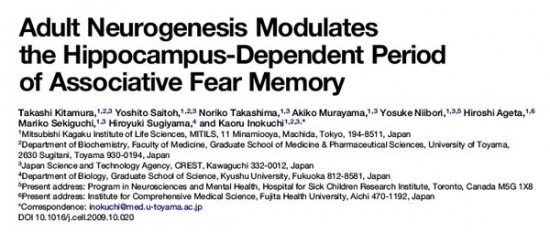 Kitamura et al. (2009) Adult Neurogenesis Modulates the Hippocampus-Dependent Period of Associative Fear Memory. Cell. 139:814-827.
It's great to see this paper finally in print. At SFN 2008 the authors had a poster that generated a lot of excitement, at least in our circles.  And the poster was quite a sight: there was such a profusion of data that the poster poured off the easel, nearly reaching the floor. With 27 (!) supplemental figures in the final article, one has to wonder if this is the final straw that led to this article.
The authors use an ingenious approach to address an idea that has been floating around for a while: that adult neurogenesis regulates memory turnover in the hippocampus. Read the rest of this entry »