THIS IS EXCITING. READERS THAT ARE PREGNANT / HAVE HEART PROBLEMS STOP NOW

CLICK HERE

.
Over 30,000 people attend the annual Society for Neuroscience meeting and for this reason alone people either love it or hate it. On one hand, you can learn about any type of neuroscience research imaginable. On the other hand, it can be extremely difficult to find the meaningful stuff. The online itinerary planner. It works. Kind of. Did you search the right keywords? What about that new technique you're interested in* – it's mentioned in 100s of abstracts – which ones are worth checking out? What are other neuroscientists looking at? And in case you've missed something interesting you now find yourself at the meeting, aimlessly scanning titles, just a brainstem….being pulled towards the larger crowds…failing to penetrate the bobbling masses…
BUT THE KILLER APP THAT WILL SAVE YOUR LIFE HAS ARRIVED

→

Hubbian ←


SEARCH THE ABSTRACTS FOR WHATEVER TERMS YOU LIKE. ABSTRACT CONTENT, AUTHOR NAMES, EVEN PRESENTATION & POSTER BOARD NUMBERS.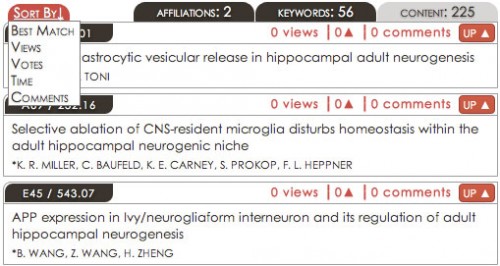 SCROLL THROUGH THE SEARCH RESULTS, SELECT AN ABSTRACT AND, IF YOU LIKE IT, VOTE FOR IT! BETTER YET, LEAVE A COMMENT!
So you've scanned the abstracts a bit, maybe noticed the 'related abstracts' tool and stumbled across some presentations you'd never have found (awesome)…but now what?
HOW ABOUT GIVING YOUR BRAIN A REST. LET THE APP TELL YOU WHAT'S INTERESTING**
Do a search and sort the results by the number of views, votes or comments. Go back and sort by 'best match' to find content that is closest to your particular query. Sorting by time will tell you which presentations are coming up next. And you can always click the links at the very top of the page to see the most popular presentations of the entire meeting.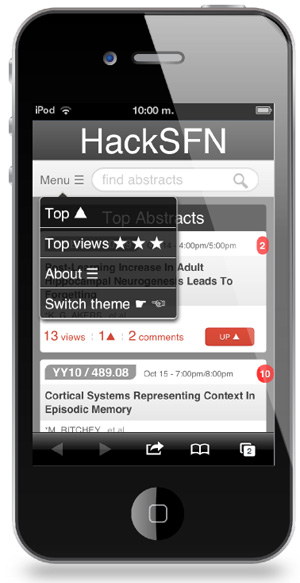 DID I MENTION THERE'S ALSO A MOBILE VERSION??
So play around and check back to see which presentations and topics become popular as the meeting approaches. We will also be sharing interesting trends as they emerge. With each view, each vote, and each comment the data will become even more useful to others. So:
SHARE IT WITH OTHER NEUROSCIENTISTS THAT ARE NOT PREGNANT & DO NOT HAVE HEART PROBLEMS!
*Golgi staining
**or at least which abstracts are getting the most attention
—————————————————————————-
—————————————————————————-
Extra details for aficionados
the development

crew

, which I was lucky enough to join
database contains abstract content only
got feedback? let us know!
will be using Twitter hashtag 

#sfn12
Internet Explorer is not supported