Some posters get more attention than others. Either there's an interesting abstract, an attractive/famous presenter or, my favorite, additional passersby get sucked in by the gravitational force of an existing crowd. Whatever the reason, I've started a game called Photos of Popular Posters (PPP). It doesn't in any way attempt to determine why the poster attracts attention. It's just a tribute to popularity. So this morning, playing PPP in aisles JJJ and KKK, with an admittedly-small sampling (1 stroll), the largest crowds could be found at: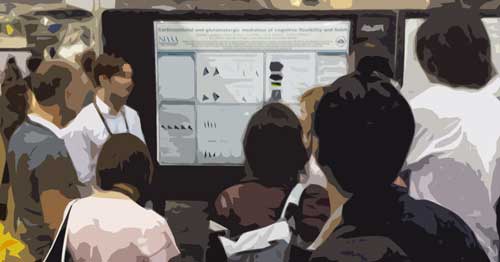 Corticostriatal and glutamatergic mediation of cognitive flexibility and habit, by Brigman et al. Congratulations – you were popular.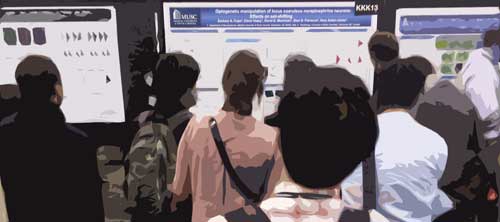 And, Optogenetic manipulation of locus coeruleus norepinephrine neurons: Effects on set-shifting, by Cope et al. Also popular.
Supplemental Methods & Results: Afternoon strolls in the development and in vivo-electrophysiology-during-behavior themes revealed a number of potentially far more popular posters. However, these posters were excluded from the experiment because many of the poster "viewers" were not actively engaged with a poster. Instead, they displayed dazed looks in other directions and appeared to actually be moving, perhaps suffering from SFN exhaustion and traffic jamming.